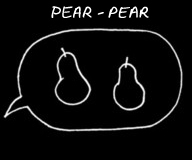 Want to help support Pear-Pear? Copy one of these banners to your site!
Link me, and I'll link you back :)


Check out the webcomics of these artists who have kindly supported Pear-Pear!
[not all the comics linked below are SFW (Safe For Work).]
"I am very impressed with Pear-Pear in every way. The artwork is absolutely charming and technically adept, but the wordless dialogue is what captured my heart."

-[ Vas Littlecrow of Rasputin Barxotka and Rasputin Catamite]

"This is a very nice comic, I do love the whole concept." - [Rulo of M9 Girls]

"So, I think this comic is just straight up amazing." -[Neil Brideau of Sock-Monster]

"What the hell?
Your comic is outstanding!
(If people are itching their head raw trying to get it, just tell the
person in question that they're rather physically attractive and most
clever. Then they'll get it)" -[Adam Marien of Mulberry Gallows]
fglhjrthburnbtoseihndroihpsmoiumphum. -[Ryan Armand of Minus]
included a reference to Pear-Pear in this comic! How flattering!
Stumbled across pear-pear and I'm glad I did... I REALLY like it!. -[Chris of Productivity Zero]

" "

" "

" "
" "

" "

" "